A few months back I scooped up a sweet domain name, vJot.com, but had no particular reason for doing so. I couldn't have that, my parents raised me better. So, I built a tasty, little app during RailsConf to fill the void and boy was I happy. I mentioned its arrival on Twitter and managed to get eight people using it concurrently. Hot damn, I'm retiring to the Bahamas!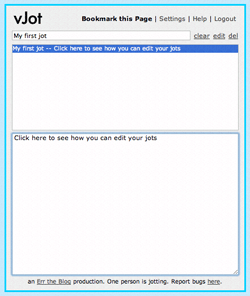 Then, some folks claimed it was buggy, and others mentioned it wasn't much to look at (you guys know who you are, my feelings were hurt), but I think I've appeased the masses after a month of tweaking. The latter was fixed because I stole the style from a project Chris is working on (more on that soon).
It's a simple note-taking app inspired by a sweet OS X jotter called Notational Velocity. There's nothing in particular in the code worth showing off, but anything I'm writing for personal satisfaction is going to be MIT'd. Too long I worried if my previous employer owned my code (and soul, but that's a different post).
Demo: http://vjot.com
Browse: http://require.errtheblog.com/projects/browser/vjot
Checkout: svn co svn://errtheblog.com/svn/projects/vjot
There's a handful of stuff I still want to do like adding a concurrent edit warning, converting to javascript-lookups instead of db-lookups, and hooking up global shortcut keys, but sometimes you just gotta launch a bitch.
If you don't "get" the app, that's okay, I don't expect everyone to find a need for it. Chris and I have had success using it to keep track of our ideas and plans for upcoming posts/events since its inception. And if we're using it, well…
I've even been using it to keep track of feature requests for itself, it doesn't get much more meta than that folks. Happy jottin'.