Between all the post-punk marching bands, free booze, and falls off fire escapes, I somehow managed to give a presentation on memcached at RailsConf 2007.
I've got two versions of my slides available: with notes and without notes.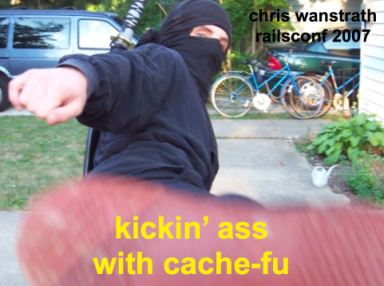 Nick Sieger has an excellent writeup of the talk, as do Rob Sanheim and John Nunemaker. Their collective blog entries really contain more information than my slides.
Grab cache_fu and follow along:
$ svn co svn://errtheblog.com/svn/plugins/cache_fu
Patches are welcome and should be directed towards Lighthouse.
See you guys next year.
Update: Don't forget to join the mailing list if all this stuff interests you.