As you well know, we've of late been on the Piston kick for our Rails plugins. Lots of great libraries in our vendor/plugins directory, all stored locally and sync'd with the author's repository. Real nice. But, there's a problem. One last something standing in the way. Specifically: How do you know when a remote repository is updated? You need to know about changes to sync (read: update). Heaven forbid we miss a killer new feature.
You can follow the blogs, or check the Rubyforge, or grab the Trac feed, but sometimes none of these things are available. Sometimes all you really have is the repository.
Sometimes you need Subtlety.
subtlety: a remote subversion excursion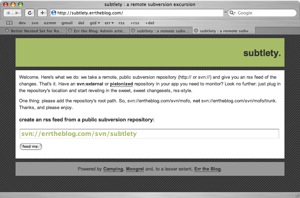 Subtlety is a little Camping mini-site cooked for this very purpose. Give it a public repository's url (starting with http:// or svn://) and it gives you an RSS feed of the changes. That's it. Really.
Get Rollin'
Get started by subscribing to the mofo changelog. Or maybe you prefer Cheat? _why's sandbox? Some inferred routes action? You get the picture.
Be creative. The guys over at Nuance Labs rolled up the RSSes for all their plugins into a single feed, thanks to Google Reader. How cool is that?
Let me know if you have any problems. Pass it on. Etc. Feeds are cached for 15 minutes, so be patient when trying it out.
More importantly, have fun and be responsible.
Update: Private Repositories
Some folks have asked how they can use Subtlety with private repositories. Well, you can't. But you can roll your own.
One solution is the svn2rss.py Python script included with Subversion. Because I know how much you love Python.
Another option is to do what technoweenie did and create your own RSS feed using XSLT. This is the foundation upon which Subtlety is built, you see.
Finally, if you must, you can checkout the Subtlety code and hack it as you see fit:
$ svn co svn://errtheblog.com/svn/subtlety
If you go this route you may want to grab (of course) the subtle Subtlety RSS Feed.
Come up with a cool hack? Find a bug? Be sure to let me know. The comments work. So does chris[at]ozmm[dot]org.