Ruby could use a bit more color. We're all clamoring for it. Coloring our tests. Tagging our log files. Here's some quick (and/or dirty) help.
$ sudo gem install colored
Launch yourself an irb and try 'er out:

Fun stuff (pretend it says colored, not color for the require). Not just for the console, though—it also works in Rails log files.



logger

.

debug

 

"

API: 

".

red

.

bold

 

+

 

"

Got topics from Chowhound.

".

red



becomes

And hey, Windows users?
$ gem install win32console
It works, thanks to lucas for testing and Dr Nic for the gemified version of Win32Console.
Here's a short screencast (it's so fast that it appears static):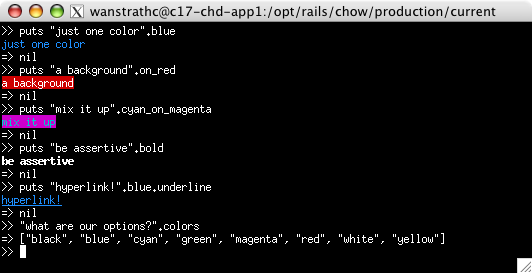 Have fun.