In the midst of all these CRUD discussions and app organization tips, I'd like to submit a slightly less controversial idea: organize your models without resorting to namespacing.
How? Here's a typical app/models directory.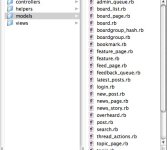 Yikes. Way too many models. But let's say we need them all and don't really want to deal with namespacing. The first thing to do, as with any type of organizing, is separate our large group into smaller logical groupings. In this case we have three: database models, which map directly to a database table, cache models, which do not map directly to a database table and live in memcached, and tableless models, which we use to take advantage of ActiveRecord's validations without using database table.
We create three subdirectories under model to represent our smaller groups: database, cache, and tableless. Like so.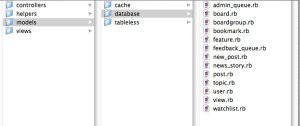 That's a lot better. It's immediately clear which models do what. Now, how do we get Rails to recognize the models in these subdirectories without having it assume they fall under the namespace of the subdirectory itself?
We don't.
Rails will automatically find these models without any problem. There will be no difference in your code, just less mental overhead when jumping through your directory tree.
You can also use this trick to better organize your controllers, helpers, plugins, or libraries. Thanks, Rails.
Update: Getting this to work in Rails 1.2+ is simple. Simply add the subdirectories of models to your config.load_paths array in your Rails::Initializer.run block. Like this:



Rails

::

Initializer

.

run

 

do

 

|

config

|


  

config

.

frameworks

 

-=

 

[

 

:action_web_service

 

]



  

config

.

load_paths

 

+=

 

%W[


    

#{RAILS_ROOT}

/app/models/api
    

#{RAILS_ROOT}

/app/models/cache
    

#{RAILS_ROOT}

/app/models/database
    

#{RAILS_ROOT}

/app/models/tableless
  

]




end